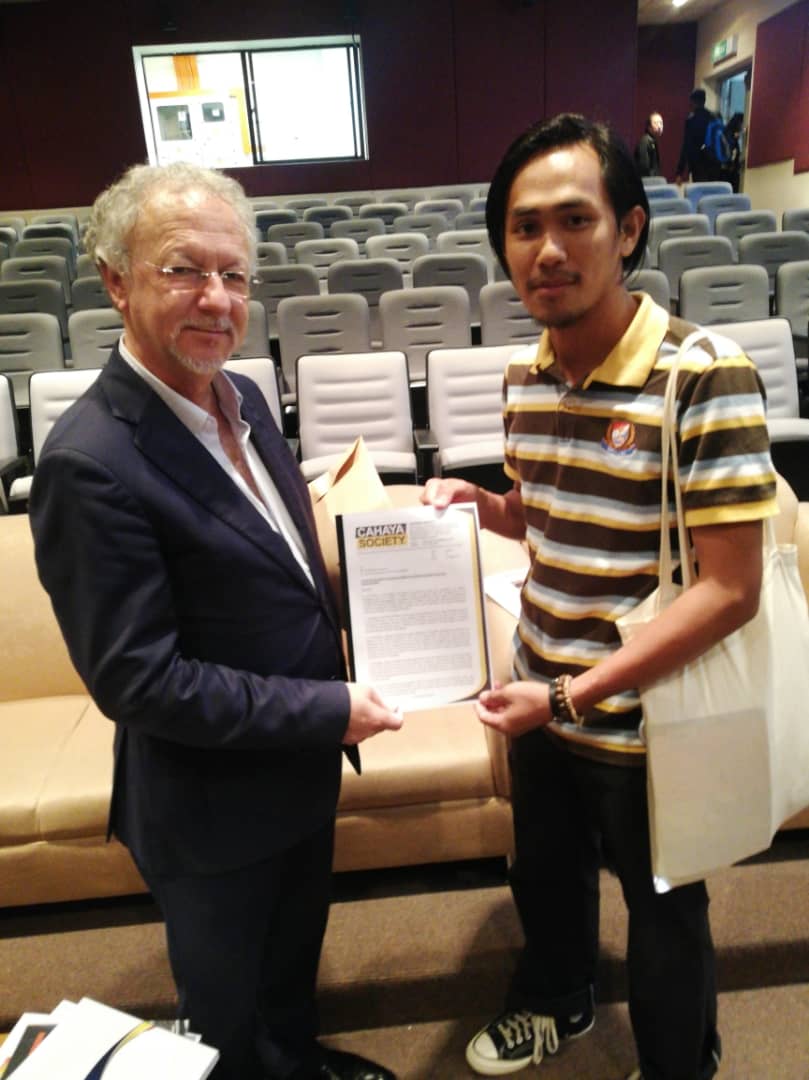 Cahaya Society Menyerahkan Surat Kepada Special Rappoerteur United Nation (UN)
Kota Kinabalu, Sabah: 2 Ogos 2019, telah berlangsung sebuah Perbincangan Tertutup bersama Pelapor Khas (Special Rapporeur) Pertubuhan Bangsa-Bangsa Bersatu (UN) bagi Hak Minoriti iaitu Dr. Fernand De Varennes di Universiti Malaysia Sabah.
Wakil Cahaya Society telah menyampai dokumen pendek mencakup pandangan umum Cahaya Society berkaitan kelompangan akses pendidikan kepada kanak-kanak tanpa dokumentasi dan miskin tegar di Sabah khususnya kawasan pantai timur Sabah- Sandakan.
Berikut adalah kandungan surat;
To:
Dr. Fernand de Varennes
UN Special Rapporteur of Minority Rights
Access to education for stateless children in Sabah especially in the East Coast of Sabah
According to the Sabah Immigration Department, there are reportedly 1.2 million foreigners out of 3.9 million. Another 250,000 are placed under the management of the Foreign Affairs Management Committee in Sabah (JKPWAS). Those under the management of JKPWAS consist of refugee children with no IMM13 card, people with documents but not issued by Immigration Department, children from local marriages with illegal immigrants, and the community of sea gypsy (Palauh).
Sandakan, one of the districts on the east coast of Sabah, has more than 400 000 people of various ethnicities. There are many stateless children who do not have access to basic education in Sandakan. Stateless children in Sabah have reached 200 000 people. According to UNHCR, the stateless issue in Sabah is the largest contributor and the largest number is 80,000 children from the Philippines.
In Sandakan, stateless children are often labelled as "invisible" children since they do not appear in any official documents. Their lack of citizenship is the origin of a variety of discrimination. These children have no access to medical care, education or child protection authorities. They are marginalised because their existence is not legally recognised. They are unable to attend normal school as the parents can't afford to enrol them. They can barely make enough income to feed the family, as such, their children are left to wander around or taking hard labour jobs or begging.
The sight of these children loitering around the city and public areas are not uncommon. Even more worrying, there are also children working in construction side, factories, bag carrier in the market, fishermen and jetties. They are subjected to various safety, security and health risks, not only at personal level, but also at community level too. They can easily be exploited and manipulated into becoming part of the sex trade, extremist movement and other criminal activities.
Despite the repeated announcement made by government over the last few years, the enrolment to school by these children is very low. In fact, there are none in Sandakan. Based on our observation and engagement with the community, there are three major discouraging factors; finance, bureaucracy and safety.
In the context of social cohesion and security integration, these children should not be left behind instead, they are prevented from receiving basic education. Thus, to reduce if not to eradicate illiteracy among the stateless children, Cahaya Society running an alternative education program and providing the kids a safe space to attract their learning interest.
On April 2, we were approached by Sandakan education official and they forced us to provide information on the children and their parents. Otherwise they'll come together with ESSCOM. This is a threat that we take seriously. We support the agenda of education for all and we are ready to work with anyone. We consider the act of two officer as a discrimination against NGOs and stateless children in Sandakan particularly.
We think if the state or federal government is not interested in providing educational access to the stateless children especially in Sabah then the government needs to create policies to allow NGOs to operate alternative learning centers.
In the era of New Malaysia, NGOs and the Malaysian government should work together to support the education agenda for all. We will continue to help the stateless children unless the government plays a role in providing them with at least basic education. Thank you.
Turut diserahkan kepada Pesuruhjaya Human Rights Commission of Malaysia (SUHAKAM), Jerald Joseph. Isu ketanpanegaraan dan kanak-kanak tanpa akses pendidikan di negeri ini sangat memerlukan maklumat daripada NGOs dan CSOs yang selalu berada di lapangan bagi merealisasikan agenda pendidikan untuk semua.