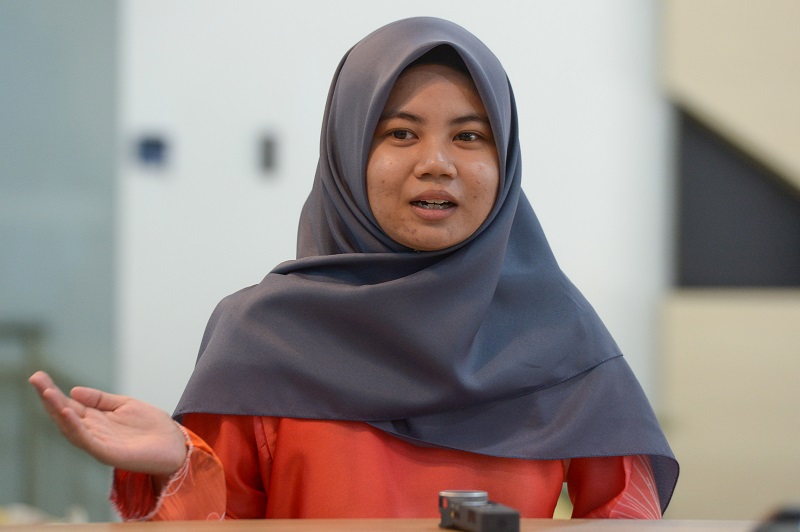 Malay Mail Online – Stateless, bright girl fears dim future
KUALA LUMPUR, March 20 ― She is a top student at her school in Klang, speaks fluent Bahasa Malaysia, idolises Neelofa and her favourite food is nasi lemak.
Despite having traits that appear Malaysian, Roisah Abdullah is not one.
Roisah, 21, or just Roi to her friends, was born to a foreign mother and an absentee Malaysian father, and is stateless as a result.
"Authorities said because they could not ascertain who my father was, since he left when I was born, they could not issue me a Malaysian citizenship," she told Malay Mail in an interview.
"But I do not belong anywhere else, if I don't have Malaysia, what do I have?"
Shortly after her birth, Roisah was officially adopted by a Malaysian woman named Satrah Nabowah, who was 61 when she died of natural causes in 2014 .
Satrah had worked as a tailor to support Roisah and fought for her right to attend school, but was unable to get her adopted daughter Malaysian citizenship.
Roisah's applications to the National Registration Department (NRD) were rejected without reason.
"We applied for my citizenship in 2011 and again in 2013, I only heard back that my application was rejected in January this year."
"My birthday is on April 25 and its fast approaching, to have citizenship in the only country I've known would be the best gift anyone has ever given me," she said.
Her greatest fear now is that she may not be able to put the three distinctions she earned in the STPM to further use.
The SMK Sungai Kapar Indah science stream student also excelled in her earlier exams, scoring 9As for PMR and 7As for SPM.
Earlier this year, Deputy Prime Minister Datuk Seri Ahmad Zahid Hamidi said stateless children would be allowed to attend school pending their applications for citizenship, but did not state if this also extended to local universities that Roisah is trying to enter.
"To enroll, one requires a birth certificate, an identity card, exam results and the parents' particulars," said Roisah.
"All I have is my results, I don't have an IC, my birth certificate says I'm not a citizen of Malaysia, and I only have my adoptive mother's information and the documents for when she adopted me."
Roisah has not come up against explicit rejection, but is still concerned.
"I will submit an application to the Student Admissions Management Division under the Higher Education Ministry in an attempt to get into a university as advised by Lawyers For Liberty(LFL)," she added.
Being stateless is an obstacle to more than Roisah's pursuit of further studies.
"I can't open a bank account, I have nothing in my life, I can't even get a driving licence, it's like I am nobody," she said.
She also said she faced discrimination because she cannot produce a MyKad the way most Malaysians take for granted.
"Why should I be treated any differently than every other Malaysian? I was born in Klang and grew up here, I speak fluent Bahasa Malaysia and, all my friends are Malaysian."
"I just want to move on with my life, get an education and contribute to this country that I love, it is not fair that I am forced into a situation by something I have no control over, I have dreams and I am young, I don't want to give up and lose direction but it's hard," Roisah lamented.
Roisah said she will apply again for a citizenship in Malaysia, but also urged that the government addressed the matter promptly so she can apply to attend university before her deadline in two weeks.